Initiated By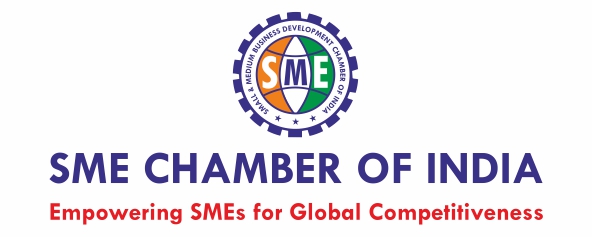 SME Chamber of India is a leading organisation, providing support and assistance for the last 30 years to SMEs, manufacturing industries, exporters, service sector, mid-corporates, start-ups and allied industrial & businesses for business growth, export promotion, supply & procurement, channelizing finance & investment, import facilitation, setting up new manufacturing industries, joint ventures, technology transfers, collaborations, contract manufacturing, marketing, promotion, franchise, distribution, Government services and liaison and identifying business partners for mergers & acquisitions, advanced & patented technologies as well as services to supply to corporates, MNCs, Government agencies, potential buyers, importers, manufactures, suppliers and exporters. We have been regularly providing business, export leads, business alerts and emerging business opportunities in the domestic and international markets.
The Chamber regularly organizes various business promotional activities & events to connect with potential business partners, information about Government schemes and policies, B2B meetings, interaction with Government officials, visiting foreign delegations, heads of regulatory authorities, corporates, MNCs, banks & financial institutions, diplomatic missions and emerging SMEs. The Chamber is also providing platform to entrepreneurs to share their success stories, brand, market & promote their unique ideas, advanced & developed technologies or products & services, innovations & inventions, research & developments as well as publicity through "SMEConnect Magazine, SME TV Channel, SME News 24X7 and SMEtalks platform.
The Chamber, as an Apex Organization, working under the dynamic & indomitable leadership of Founder & President, Mr. Chandrakant Salunkhe, who has taken the initiatives & efforts to set up the SME Stock Exchange, TReDs platform, change of definitions of MSME sector, regularly pursuing with the banks & Financial Institutions to enhance the credit flow and provide collateral free funding towards SMEs as well as constantly reviewing & improvising various schemes and policies to secure the interest of SMEs, manufacturing & export sectors.
More Info: www.smechamberofindia.com